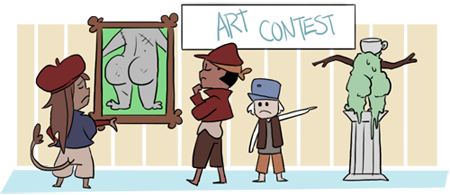 Are you an awesome artist? Are you an awesome writer? Then you should enter Unsounded's fanfiction or fanart contests!
Here's how each of the two contests works:
Fanfiction
You write a short story or vignette based in the Unsounded universe. It can be of any length, feature characters from the comic or suitable creations of your own, and be any genre that you feel will tickle readers. The only concrete rules are that

In keeping with the comic, the story must stick to a 15+ rating. In other words, no gratuitous sex. Violence and swearing are fine, but I'm American. A penis? Oh, my stars and garters!
It must be written in prose format. No scripts.
No crossovers. The story must remain in the Unsounded universe throughout and feature only characters from that realm (whether they be original creations or not). I don't want to see Sephiroth or Captain America in your story. Well, I kind of do- but No.
Speculation is acceptable and encouraged (What was Quigley's childhood like? What's up with Jivi's mom? What would Mikaila be like at 18?), but goofy stuff is fine too. The point is to be creative and entertaining! Remember that additional lore can be found on the wiki, but don't sweat the details.
Fanart
You create a visual depiction of any character(s) in the Unsounded universe. The only concrete rules are that

In keeping with the comic, the artwork must stick to a 15+ rating. In other words, no gratuitous sex or nudity. Buckets of blood are no problem, but this is not the place for your porn.
The work should be taken to a reasonable degree of completion. No pencil sketches done on notebook paper.
No crossovers and no original characters. The character, place, or creature you depict must be from Unsounded.
Be creative. You needn't draw Duane and Sette when you can draw the four Gefendur gods, a Wandering Root having tea with Swarm, or the adventures of Chitz set adrift in Matty's hat. As long as it's in the comic or the lore it's kosher.
But Ashley! you say. I want to do a comic and enter both contests! And I say okay! If you create a comic or some other manner of illustrated story that fits in both the fanart and fanfiction categories, you may enter it in both contests. Just let me know when you submit.
Prizes
For each contest, 1st place wins a $150 Amazon giftcard.
2nd place wins a $50 Amazon giftcard.
Submit!
Fanfiction MUST be submitted to murkoph@gmail.com as a link to a shared Google Docs/Drive document. This allows you to format the story exactly as you wish and will be what the readers see. In the email please include the story title and the name you'd like to be credited as. Links to AOOO pages and privately hosted pages are also acceptable.
Fanart should be submitted to the above email address as an attachment. JPGs are preferred, but try to keep the file size reasonable. If the dimensions are too large I might have to shrink it down for display purposes.
Only two submissions per person per contest please.
Fanfiction and fanart entries are due by January 15th, 2018.
Voting
Shortly after the deadline, entries will be divided into groups determined by the date they were received. Each group will be posted online along with a poll and comic readers will have a chance to vote on them. When each group has a winner, those winners will square off in a final vote. So remember, you're writing and drawing for the readership, not for me! Nevertheless, I will not tolerate unfair poll rigging or link spamming and I retain veto power if I feel that's gone on. This is not a popularity contest. Please don't recruit your non comic-reading friends to vote for you!
And that's it! I can't wait to see what you guys come up with :)